Dear Chapter Members,

Updates:
Since the governor issued an executive order of "stay home and save lives" last Monday, we will have to cancel our April 14th meeting and postpone the Janet Crawford Memorial Table Rock hike and next Illinois Valley hike until late April at the earliest.

But we still have things to look forward to, beginning with a virtual event. The planned-for speaker at our April chapter meeting, August Jackson, is putting together an online talk on native bees. He will send us the link when it's ready; I'll forward it to you. August is an interpretive specialist at the Mt. Pisgah Arboretum in Eugene. He and his partner Amy spend time each summer observing and photographing pollinators, especially bumble bees, in eastern Oregon.
On another cheerful note, we now have a chapter YouTube channel. Just go to YouTube online and search for Siskiyou Summits TV.  Here's the link to our first video, live from the Little Falls trail on 8 Dollar Mountain. Try your hand at creating videos on your smart phone and then share them with the group. They can also be linked from our chapter Facebook page.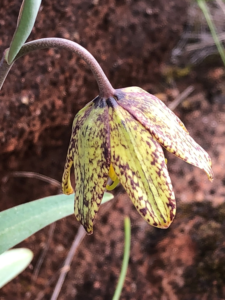 What's your favorite early spring flower? This is one of mine.
Does anyone have a spring poem to share? Send it my way. These lines are embossed on a field journal given to me by a dear friend: "Your head is a living forest full of songbirds." Let them sing.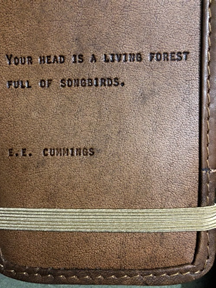 Happy Easter and Happy Spring.
Kathy Pyle