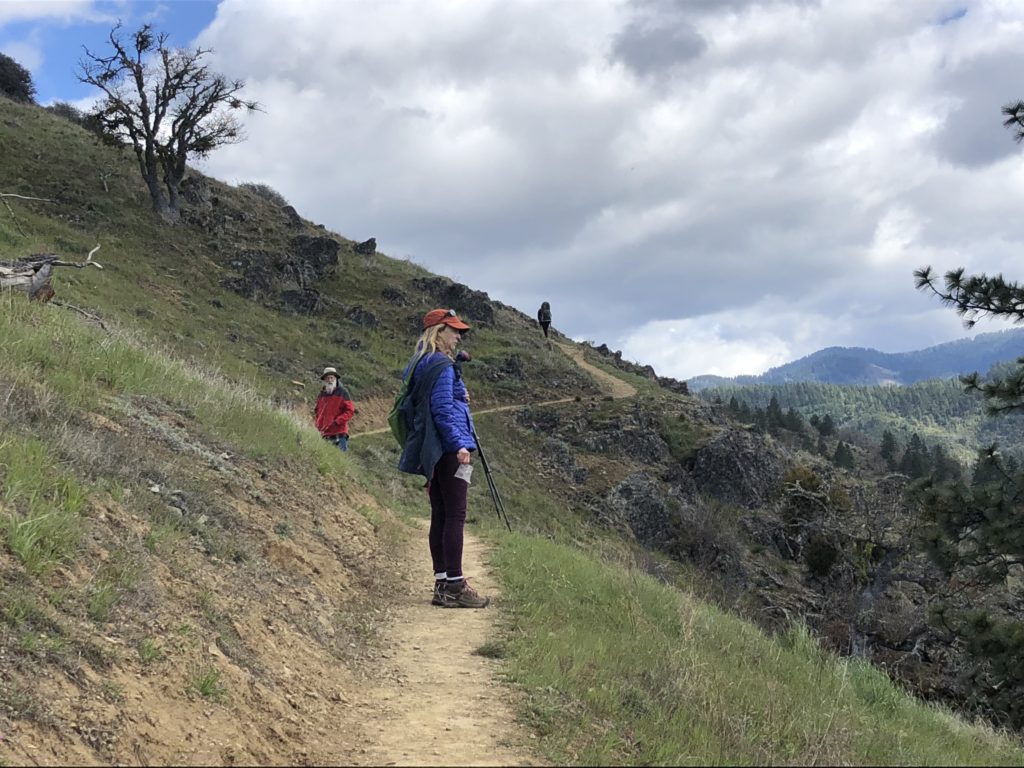 Dear Chapter Members:
This Tuesday would have been our April meeting, under normal circumstances. However, we're still staying home and saving lives until further notice. As soon as our planned April speaker August Jackson produces his pollinator lecture, I'll pass along the link.
Want to go for a hike? Check out new videos on our YouTube SiskiyouSummitsTV channel. Early April hikes include the East Applegate Ridge Trail on April 1 and the Beekman Trail in Jacksonville last Sunday, April 5.
Group hikes will be announced as soon as it's safe for us to hike together.
March Minutes from Lynn McDonald – They are attached to this email as a Word doc.
Nursery News –
Kathy's Open Garden – Kathy Allen will start up her open gardens and plant sale on April 18, continuing through the week from Saturday to Saturday in order to stagger shoppers at the 6-foot social distance. Please plan accordingly. Exact cash or checks will be welcome but at this time, Kathy is unable to make change. She says "There are plenty of plants to go around so no need to be here the first hour…. I have a great selection of plants in the nursery. I've been working hard to provide you with some new and interesting plants." Visit Kathy's Garden at 2850 Taylor Road in Central Point. Open the first week from 10-5 daily.
Shooting Star Nursery Perennials – Eric Hagerman reports that he is taking a brief hiatus from the nursery but recommends checking late this spring on the new perennials grown from plugs onsite. For now, two particular early-season recommendations are Glaucum flavum and Echium amoenum., as well as plentiful delospermum and sedum varieties.
What's Blooming in Your Garden?
April is for Trilliums!
Top right, Trillium grandiflorum in the Beekman Arboretum, Jacksonville. Bottom right, here's a trillium from mine, just opening up. It appears to be a Trillium kobayashi hybrid. Has been growing for at least a decade, hitchhiked in from a SNARGS plant sale purchase.
And Frits!
Open up and say recurva! Here's a Fritillaria recurva from the Sterling Mine Ditch trail.